Rated Best Life Coaches in Phoenix.
The life coaches at Crossroads Counseling have been rated by Expertise.Com as one of the best life coaches in Phoenix.  Expertise.Com looked at 384 life coaches in Phoenix to determine the best coaches.  The criteria Expertise.Com used in making their selections was as follows:
Reputation.
Credibility.
Experience.
Availability.
Professionalism.
Expertise.Com defines reputation as, "A history of delighted customers and outstanding service."  The life coaches at Crossroads Counseling consistently provide excellent customer care and expert guidance for their clients.  It is our goal to give each and every customer a great experience when you work with one of our life coaches.
Credibility is defined by Expertise.Com as, "Building customer confidence with licensing, accreditations, and awards."  Jena Hernandez is our primary life coach and brings her education, experience, and expertise to help those who want to hire a life coach to help them achieve their growth goals and live a happier, more fulfilling life.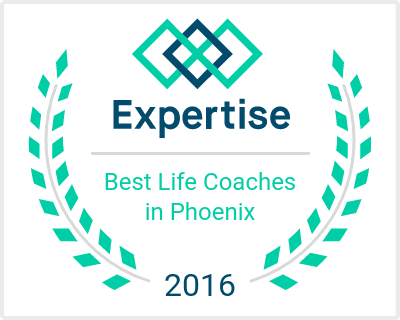 Experience is described by Expertise.Com as, "Masters of their craft based on practical experience and education."  Crossroads Counseling is celebrating its 10 year old birthday this year!  Crossroads has been offering counseling services for couples, families, and individuals for all 10 of those years.  In the past two years we added coaching to our list of services because we believe that it is best suited for those who are interested in growth (personal, spiritual, professional, & relational) and for those high achievers looking to reach their goals!
Availability is the fourth criteria Expertise.Com used to identify the top 18 Phoenix Life Coaches.  It is described as being responsive to our customers needs and being "consistently approachable."  If you call or email our office for life coaching you will be treated with respect and great customer service.  We offer 20 minute complementary phone consultation with one of our life coaches for you to "kick the tires and check under the hood" to make sure we are a good fit for you.  
The last criteria utilized by Expertise.Com is professionalism defined as, "providing service with honesty, reliability, and respect."  You will find that the life coaches at Crossroads are not only professional but also highly personal.  Combining professionalism with a personal touch is our speciality.  We care about our clients and their growth.  We want you to be the very best you can be!  Our life coaches will be there to cheer you on, challenge you to dig deeper, and to celebrate your successes.
Are you ready to make 2017 the year you finally achieve the growth you have been hoping for?  Take the first step and call us at 623-680-3486 or email info@crossroadsfcc.com to learn more about our life coaching services.  We can't wait to partner with you as you become the best you you can be!
Life Coaching in Phoenix, Scottsdale, and online in AZ
Our team of caring therapists would be happy to offer support from our Phoenix, Scottsdale, and online in all of Arizona. We would be honored to help you have greater access to yourself, and each part that makes you who you are. To start your  journey, please follow these simple steps:
Meet with a caring therapist
Start becoming more in tune with yourself!
Other Services Offered with Crossroads Counseling
Life Coaching isn't the only service offered by our Phoenix, Scottsdale, and  AZ-based online therapy practice. Our team is happy to offer a variety of mental health services from our  Phoenix, and Scottsdale locations, and across the state via online therapy. We offer support for children, teens, families, women, and men with both individual therapy and group programs. Other services offered include anxiety therapy, treatment for depression, trauma and PTSD, grief and loss, relationship counseling, and premarital counseling.