"Coaching is all about someone believing in you and encouraging you, about getting valuable feedback, about seeing things from new perspectives and setting your sights on new horizons."  Author Unknown
Are You Ready to Take Your Life, Career or Relationship to the Next Level?
Do you want to make a change in your life, but feel stuck and unsure of where to begin? Are you making choices or living in ways that feel out of balance with your values or goals and want to get back on track? You may know what you want to accomplish but have trouble finding the motivation or confidence to make a big life change. Perhaps you worry that you don't have the information or skills you need to make the right choice about an important career, health or relationship decision. Maybe you feel like life is too chaotic to focus on your own wants and needs right now. Or, you might hesitate to pursue a personal passion or interest, worrying about how your decision would affect your partner or family. It may be that you are struggling to set achievable goals and become self-conscious or disheartened when things don't go as well as you had expected or hoped. Are you looking for the resources, guidance and support needed to feel empowered in your personal life, career and relationships?
Many People Struggle to Set and Reach Goals
Many people get into a routine at work or at home and forget about or deprioritize the things they are really passionate about and goals they once wanted to achieve. Some people recognize that they aren't following their passion, but feel too weighed down by fear, doubt and uncertainty to make a change. Others find themselves thrust into a change, perhaps following a marriage, separation, promotion or job loss, and feel overwhelmed, unprepared and unsure what to do next. As you go through changes in your life, career and relationships, you may realize that you aren't happy or satisfied. And, although you may have recognized that proper support and guidance could help you utilize strengths and make empowered decisions, anxiety, stress or a fear of being judged might have kept you from seeking help.
Fortunately, there is hope for the future and a path to positive change. With the help of an experienced, understanding life coach, you can develop effective, empowering strategies and take confident steps to achieve personal, professional and relationship goals.
Life Coaching Can Help You Feel Confident and Empowered
Life coaching can help you create and maintain balance in your life. At Crossroads Counseling, we offer a safe space and compassionate support to help you identify and address areas of your life that you would like to change or improve. You will feel encouraged and respected as an individual, no matter where you are coming from or what you want to accomplish. As you focus on the future and are supported in developing a strategic plan to achieve your goals, you can recognize your strengths and feel empowered to move from where you are now to where you want to be.
We tailor our coaching approach to best support and address your unique strengths, challenges, goals and needs. Your coach will partner with you on your journey, asking questions and truly listening to your responses – both the words you speak and those left unsaid. As experienced life coaches, we can provide education, resources and an objective perspective that can help you recognize that the goals you have may not be as daunting as they seem. By breaking down larger goals into small steps, success becomes more attainable and less overwhelming. With a clear path forward, you can learn to prioritize and set goals according to your values. You can hold yourself accountable and begin to recognize and celebrate small victories.
In addition to developing practical resources and skills, your coach will focus on helping you foster a sense of balance as you work to achieve goals. You can explore sources of stress, discomfort and self-doubt and cultivate strategies you can use to feel whole in mind, body and spirit. We incorporate a variety of creative approaches to help you better understand and connect with your thoughts, emotions, wants and needs. When you feel comfortable expressing yourself, even if you do so in a way that you never plan on sharing, such as through sketching or journaling, it becomes easier to recognize what you need to feel secure and satisfied. You can build a healthy relationship with yourself, embrace your strengths and gain the confidence to live life to the fullest.
At Crossroads Counseling, our certified coaches and counselors have spent their careers helping individuals set and achieve personal, professional and relationship goals. We bring a wide variety of specialized training and experience and meet you where you are at emotionally. If, during the course of our work together, we identify a specific challenge or goal that could use additional coaching or counseling, you can feel confident knowing that we have someone qualified to offer support. There is always room for positive change.
But, you may have questions or concerns about coaching for success…
I don't have time to work with a personal coach.
It can be difficult adding another weekly meeting to your schedule, especially if you already feel overwhelmed by work or at home. But, life coaching truly can help you develop tools and goal setting techniques, manage challenges and increase focus and productivity. Consider how much time you can get back when instead of avoiding stressful or uncomfortable situations you spend just one hour each week fostering personal growth and development to manage and overcome stressors.
Why should I work with a life coach?
Personal coaching is about building a trusting relationship and helping you move forward in areas where you feel stuck. The genuine connection you form with a certified life coach can help feel supported as you explore your experience, strengths and goals from an objective perspective. And, by developing skills and taking concrete steps tailored to help you reach your unique goals, you can create positive change and lasting transformation in your life.
I'm not sure I can afford weekly coaching sessions.
It can be hard to prioritize weekly coaching when you have so many other personal, professional and relationship expenses. But, consider how feelings of stress and unhappiness are affecting your focus and productivity. You may feel like you have missed out on opportunities because you didn't have the education, training or resources you needed to feel confident at the time. A certified life coach can help you set priorities, including how you spend your time, energy and money, so you can have a more balanced and enjoyable life.
You Can Feel Happy and Empowered
If you are ready to feel secure and confident, or if you still have questions about life coaching at Crossroads Counseling in Phoenix, we invite you to call 623-680-3486 to schedule a complimentary 20-minute phone consultation. We can discuss your needs and see if we are the right fit to help you meet your personal, professional and relationship goals and needs.
Did you know that the life coaches at Crossroads Counseling have been rated, "Best Life Coaches in Phoenix" by Expertise.Com.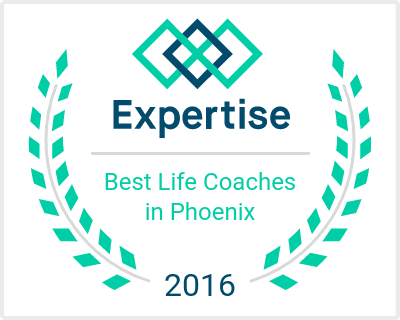 To learn more about Jena Hernandez, Certified Life Coach, click here.